Reinitzer Sigrid Fridrun
Bibliothekarin
* 11.2.1941, Graz, Stmk.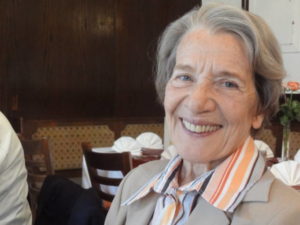 Herkunft, Verwandtschaften: Sigrid Reinitzer ist das 2. Kind von Dr. Edith und Dr. Gernot Reinitzer, beide Mittelschullehrer. Ihr Bruder Heimo (geb. 1943) ist Universitätsprofessor für Germanistik – Altes Fach in Hamburg, sein Zwillingsbruder Gero Professor für Mathematik und Physik an der American International School in Wien. Ihr Großvater Univ.Prof. Friedrich Reinitzer war Entdecker der Flüssigkristalle.
Ausbildungen: Sigrid Reinitzer studierte an der Universität Graz Jus, Germanistik, Geographie und Volkskunde und wurde 1968 zum Dr.phil. promoviert. Daneben nahm sie 1956–1968 an Wettkämpfen im Olympischen Achtkampf teil und erteilte bis zu 40 Wochenstunden Nachhilfeunterricht. 1970–1972 absolvierte sie eine zweijährige chemotechnische Ausbildung mit Diplomabschluss.
Laufbahn: 1968–1970 arbeitete sie als Sekretärin beim Verband der Akademikerinnen Steiermark. Nach der vorübergehenden Leitung von StudentInnenheimen und Arbeiten für Rundfunk und Tageszeitungen wurde sie 1971 an der Universitätsbibliothek Graz angestellt, wo sie sich nach Absolvierung der bibliothekarischen Ausbildung und Dienstprüfung als Leiterin der EDV- und Informationsabteilung (ab 1978) z. B. bei der Gründung der Online-Informationsvermittlungsstelle UBIS und der Entwicklung des Ausleihesystems GRIBS durch alle Probleme dieser Pionierzeit der Bibliotheksautomatisierung durchkämpfte. 1984 wurde sie Stellvertreterin des Bibliotheksdirektors Dr. Franz Kroller und mit 1.9.1989 seine Nachfolgerin und damit die erste Frau an der Spitze der zweitgrößten Universitätsbibliothek Österreichs. Sie wurde zur Hofrätin ernannt. Unter ihrer Leitung erfolgte die Umstellung der Bibliothek auf das Österreichische Bibliothekenverbundsystem BIBOS und auf dessen Nachfolgesystem Aleph sowie die Gründung eines Kompetenzzentrums für Digitalisierung. Sie richtete eine Blindeninformationsstelle und ein Seniorenreferat ein. Ihren besonderen Einsatz erforderte das Großbauprojekt der Fakultät für Rechts-, Sozial- und Wirtschaftswissenschaften mit dem Neubau der Fakultätsbibliothek und dem Verbindungstrakt als Erweiterung der Hauptbibliothek sowie die Errichtung der Fachbibliotheken in der Heinrichstraße 36 und in der Merangasse 70 und der Neubau der Fachbibliothek Theologie in der Heinrichstraße 78 sowie der Fakultätsbibliothek Medizin im Rahmen des Zentrums für Medizinische Forschung am Grundstück des Landeskrankenhauses. 1972–1999 war sie auch Lektorin am Institut für Analytische Chemie (Einführung in Nachschlagewerke der Chemie). 1988 wurde sie nach langjähriger Mitarbeit zur Präsidentin der Vereinigung Österreichischer Bibliothekarinnen und Bibliothekare (VÖB) gewählt − als zweite Frau (die erste war Dr. Magda Strebl, Generaldirektorin der Österr. Nationalbibliothek); ein besonderes Anliegen war ihr in dieser Funktion die enge Zusammenarbeit mit den anderen Berufsverbänden und Ausbildungsstellen des Informationswesens im In- und Ausland. Mit 31.12.2006 trat sie in den Ruhestand, den sie mit zahlreichen Aktivitäten erfüllt: Seit 2004 Mitarbeit beim AIT- Angewandte Informationstechnik ForschungsgesellschaftmbH und Europeana-Local in Graz. Mitarbeit bei der Vorbereitung der Tagungen "Digitale Bibliothek". Seit 2007 Vorstandsmitglied des Vereins "IFMIW – Initiative für Menschen im Wachkoma", Liquidatorin dieses steirischen Vereins zur Neugründung der "ÖWG – Österreichischen Wachkomagesellschaft" mit Sitz in Graz an der Albert Schweitzer Klinik mit Ausrichtung jährlicher Tagungen an der Karl-Franzens-Universität Graz zur Thematik des Wachkomas. Seit 2005 Mitglied der UNESCO-Arbeitsgruppen IFAP – Information for All Programme. MoW – Memory oft he World und MoA – Memory of Austria.
Auszeichnungen, Mitgliedschaften: Mitgliedschaft und Funktionen in der Vereinigung Österreichischer Bibliothekarinnen und Bibliothekare (VÖB), in der International Federation of Library Associations and Institutions (IFLA), in der ALPS-Adria Research Library Group, in LIBER (Ligue des Bibliotheques Européennes de Recherche) und in der ELAG (European Library Automation Group) sowie im Verein deutscher Bibliothekare. Mitherausgeberin der Zeitschriften BIT-Online, der VÖB-Mitteilungen und der deutschen Fachzeitschrift ABI-Technik sowie bis heute der slowenischen Bibliothekszeitschrift. 1980 wurde ihr die Dr. Josef-Bick-Ehrenmedaille in Bronze, 2000 jene in Gold verliehen, 1985 die Pro Meritis Medaille der Karl-Franzens-Universität Graz in Bronze, 2006 jene in Gold; 1986 das Goldene Ehrenzeichen für Verdienste um die Republik Österreich, 2001 das Goldene Ehrenzeichen des Landes Steiermark.
Bundesministerium für Wissenschaft und Forschung (Hg.): Personalverzeichnis Bibliotheken 1977, 1978. Wien.
Bundesministerium für Wissenschaft und Forschung (Hg.): Infodoc. Bibliotheken, Informations- und Dokumentationseinrichtungen in Österreich. Verlag Wolfgang Neugebauer, Wien/Graz 1994.
Crossing. Publikation des Vereins zur Förderung der Theologie an der Katholisch-Theologischen Fakultät der Karl-Franzens-Universität Graz, anlässlich der Überreichung des Ehrenringes für Verdienste um die Katholisch-Theologische Fakultät Graz in Gold an HR Dr. Sigrid Reinitzer. Jg. 16/2017, H. 4.
Jahresberichte der Universitätsbibliothek Graz.
Stumpf-Fischer, Edith: Laudatio [zur Überreichung der Pro-Meritis-Medaille in Gold der Karl-Franzens-Universität Graz. In: Mitteilungen der VÖB 59/2006, Heft 4, S. 64–69. Reinitzer, Sigrid: Dankensworte. In: Ebd. S. 69–71.
Verein Deutscher Bibliothekarinnen und Bibliothekare/VDB (Hg.): Jahrbuch der Deutschen Bibliotheken Bd. 67, 2017/2018, Harrassowitz Verlag, Wiesbaden 2017, S. 505.
Who is Who in Österreich., 1999, S. 1200, Zug.
Alker-Windbichler, Stefan/Bauer, Bruno/Köstner-Pemsel, Christina (Hg.): 75 Jahre VÖB 1946-2021 (=Schriften der Vereinigung österreichischer Bibliothekarinnen und Bibliothekare, Bd. 16. unipress Verlag, Graz 2021, S. 493. https://library-publishing.uni-graz.at/index.php/lp/catalog/view/23/97/235 
Schriftliche und mündliche Auskünfte von Sigrid Reinitzer.
Untersuchung der Struktur und Planung des wissenschaftlichen Dokumentations- und Informationswesens in der Bundesrepublik Deutschland. Graz 1977. Abstracts- und Indexwerke: Einführung mit praktischen Beispielen. 2. Aufl. Graz 1979. (Bibliograph. Informationen.7).
Bibliotheken bauen und führen. Eine internationale Festgabe für Franz Kroller zum 60. Geburtstag. Hg. v. Sigrid Reinitzer. München 1983.
Reinitzer, Sigrid/Böllmann, Elisabeth: Chemie. Wien etc. 1985 (Fachinformationsführer 7. Hg. Bundesministerium für Wissenschaft und Forschung).
Über 150 Publikationen in in- und ausländischen Fachzeitschriften und Publikationsreihen über bibliothekstechnische, -organisatorische, bibliographische, Berufsbild- und Ausbildungsfragen.